Truck Refrigerators
What is your way of having a break? Are you the "just grab a snackwhile driving" type? Or do you feel like something more substantial now and then? Is food storage for longer journeys an issue for you? Or are you in the market for a matching refrigerator to fill an unused corner of your truck cab? Whatever it is, Dometic has the right refrigerator to suit your break habits, your vehicle and your budget.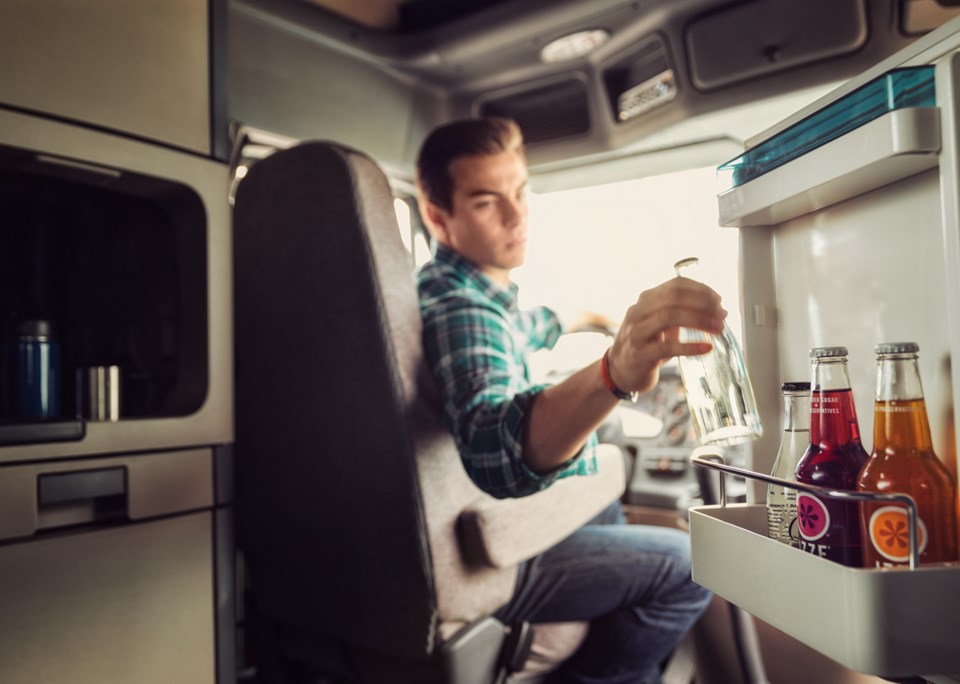 Showing 5 out of 5 products
Flush mounted refrigerators add style and save space
When choosing your truck refrigerator, finding a compact unit that fits in confined spaces is often a high priority. However, as well compact dimensions, have you also considered a flush-mounted truck fridge? Not only does the flush mounting save on space, it also looks incredibly stylish.
Solar powered truck refrigerators
The first advantage of running your truck refrigerator with solar power is that is saves money. But solar energy is not only free, it's an environmentally friendly option too. Plus, if your truck fridge runs on solar power, you can ensure that you won't drain your vehicle battery while keeping your drinks cool.
A tailor-made refrigerator for your truck
We have specially designed truck refrigerators for some of the most popular brands of truck on the market. If, for example, you own a Volvo VH or a Mercedes-Benz Actros 2 or 3 model, then you should check out our truck fridges which are tailor-made specifically for those vehicles.
Truck refrigerators for reliable cold chain management
If your vehicle is responsible for delivering fresh produce, we have specially designed truck refrigerators and truck freezers with factory-preset fixed temperatures (+4 °C or –18 °C), so the obligatory cold chain is reliably maintained at all times. Features such as a top loader design for quick and easy access to contents, ensure minimal loss of cool air when the sliding door is opened. On top of that, the pallet feet on the underside of the container ensure convenient loading and unloading with a forklift.
Truck refrigerators designed to cool in the hot environments
The inside of a truck cabin can get very warm, especially when the air conditioner is turned off. Fortunately, this won't impact the cooling performance of your truck fridge. The powerful compressor cooling technology used in our truck refrigerators is able to cool in the hottest environments.
Three tips for efficient and economical operation of your truck refrigerator:
Close the truck refrigerator properly
Make sure you always close the doors of your refrigerator properly. Some truck refrigerators have features, such magnetic seals, to ensure the door closes firmly. However, it is always worth checking the condition of the seals from time to time, so you can be certain that cold air is not escaping from your truck refrigerator.
Do not overload your truck refrigerator
For the best cooling results from your truck refrigerator, it is important that cold air can circulate through the shelves and around the stored food or drink. If your truck fridge is packed full, then the effective circulation of cool air will be restricted and, as a result, the cooling performance weakened.
Turn your refrigerator on the day before
By turning your truck refrigerator on the night before your trip, you can ensure that the fridge is cooled to an optimal temperature. Doing this overnight also requires less energy due the cooler ambient temperature. You should also place anything that is already frozen into your truck freezer to help reduce the work of the freezer as it lowers the temperature.