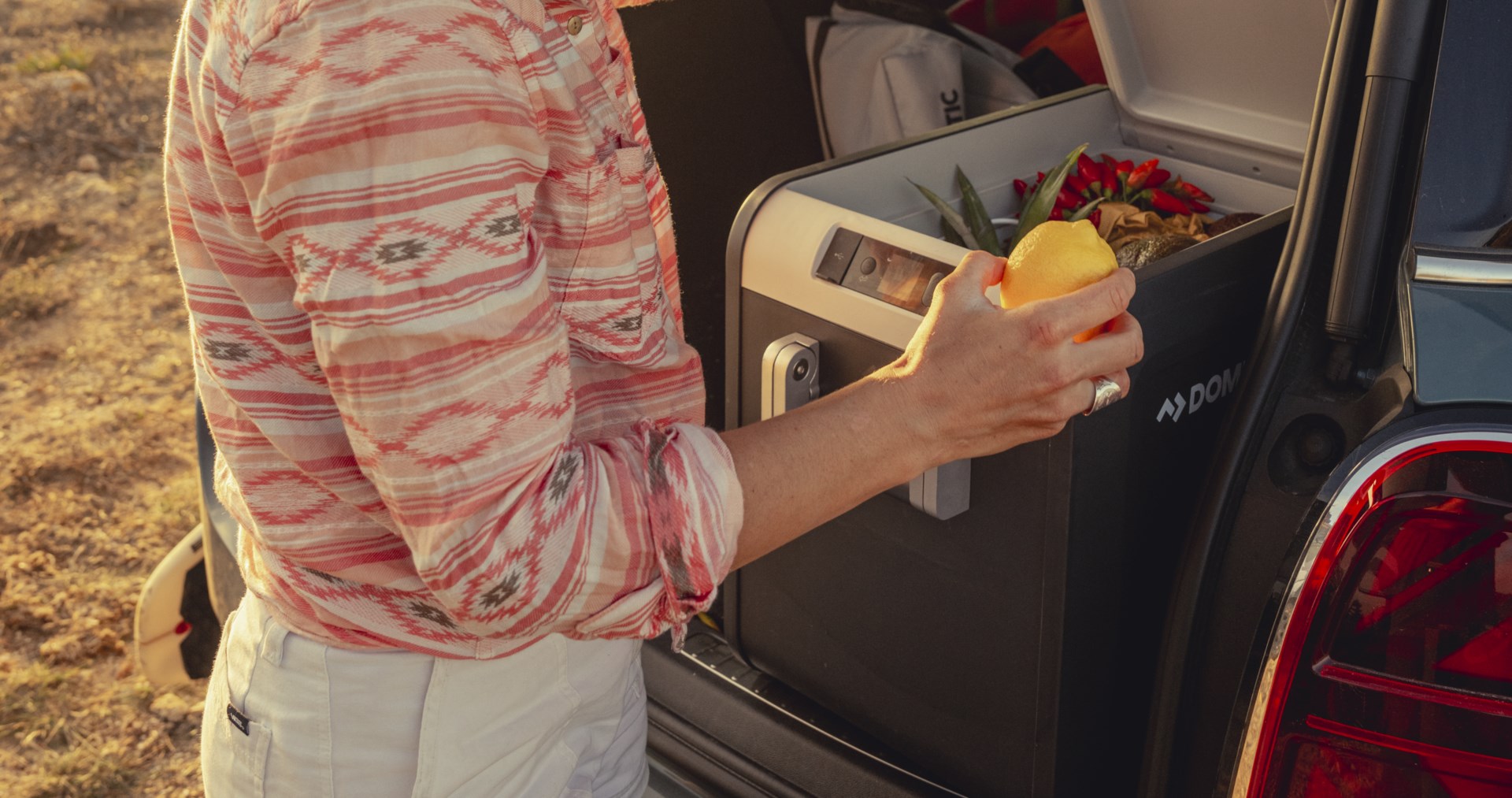 CFX3 Series
The ultimate powered coolers
Meet the award winning CFX3 Series of Powered Coolers
Experience the ultimate in portable refrigeration with the Dometic CFX3 series. Designed for outdoor adventures, whether you're camping, boating, or simply heading to the beach, the CFX3 is your perfect companion for keeping your food and beverages fresh and chilled.
Equipped with advanced compressor technology and high-performance insulation, the CFX3 coolers maintain a consistent and precise temperature, regardless of the ambient conditions. You can easily control and monitor the cooler's settings through the intuitive display or by using the Dometic app on your smartphone.
"The Dometic CFX3 is built to excel in remote outdoor environments. While most comparable models are constructed from plastic, the CFX3 has reinforcing fender frames making it extremely resistant to wear and tear. Capable of handling inclines up to 30 degrees, the CFX3 is a great choice for serious off-roaders"
Photo: Drew Martin
"The Dometic CFX3 45 is a seriously impressive powered cooler that's convenient to use, rugged enough for just about every adventure, and designed to keep things cool and fresh under nearly any circumstance".
The power to be present
With the Dometic CFX3, you have control of your outdoor experiences like never before. On-road and off-road, in the backyard and on the water, your ordinary and extraordinary adventures will be fueled by fresher, safer food, less waste and more confidence, giving you the power to be present in any moment.
Stay longer, experience more
Using our most advanced cooling technology, the Dometic CFX3 freezes down to –22 °C / –7 °F while using less power than a 60 W lightbulb. Connect to the 12V/24V DC outlet in your vehicle to roam free without worry. And relax knowing your cooler will never leave you stranded – the CFX3 actively monitors battery power and turns itself off when low voltage is detected.
Years of innovation so you can be present now
The Dometic CFX3 is the most impressive powered cooler we've ever made. The result of over 50 years' expertise in cooling system design and manufacturing. With feedback from our ambassadors and customers, we've narrowed down the search for the perfect fit by selecting our most popular sizes and upgrading one of our most popular models.
A CFX3 cooler for every need
The CFX3 series offers a range of models to suit your specific needs. Whether you require a smaller cooler for short trips or a larger one for extended adventures, we have the perfect solution for you. The CFX3 coolers also feature convenient functions such as removable baskets, interior lighting, and USB ports for charging your devices.
The Dometic range of CFX3 products cover everything from small electric coolers, CFX3 25 is our smallest cooler with a capacity of 25l, to large coolers. The largest cooler in the CFX3 series is our 99l powered cooler, but you can find cooler sizes for everything between 25 to 99 liter.
In addition to our normal electrical coolers we also have unique coolers such as the CFX3 75DZ and 95DZ with dual zones, that allows you to keep different temperature in different parts of your cooler. CFX3 55IM is our only product that allows you to make ice cubes in a couple of hours, without changing the temperature in the rest of the cooler.
CFX3 Area of usage
The Dometic CFX3 series offers versatile cooling solutions for a wide range of applications. Whether you're an avid camper, a boating enthusiast, or a road trip adventurer, the CFX3 is designed to meet your refrigeration needs in any outdoor setting.
Camping: Experience the convenience of a portable fridge and freezer during your camping trips. Keep your food fresh, your drinks cold, and eliminate the hassle of dealing with melting ice.
Boating: Enjoy the luxury of having chilled beverages and snacks onboard your boat. The CFX3's robust construction and ability to withstand tough marine conditions make it a reliable companion for your boating adventures.
Using CFX3 on the go
When you spend large amounts of time on the road, one of the most important things to consider is to ensure that food and drinks are kept fresh, with CFX electrical coolers you dont need to worry.
Overlanding: Embark on epic overland journeys with the assurance that your food will stay fresh and safe to consume. The CFX3 series is built to withstand rugged terrains and extreme temperatures, ensuring your provisions remain cool throughout the trip.
Vanlife: Enhance the comfort in your van with the convenience of a CFX3 cooler. Keep your refreshments chilled and ready to enjoy while you enjoy your daily adventures.
Road Trips: Say goodbye to soggy sandwiches and warm drinks during road trips. The CFX3's efficient cooling performance ensures that you have access to refreshing beverages and well-preserved snacks throughout your travels.
Exceptional durability and efficiency
Built to withstand the toughest conditions, the CFX3 is constructed with high-quality materials and a robust design. Its rugged ExoFrame provides exceptional protection against bumps, drops, and harsh environments. Whether you're trekking through rocky terrains, traversing muddy trails, or exploring remote wilderness, the CFX3 is engineered to endure the challenges of your outdoor adventures.
Explore our wide range of CFX3 coolers and find your ultimate and lifelong companion for your adventures.