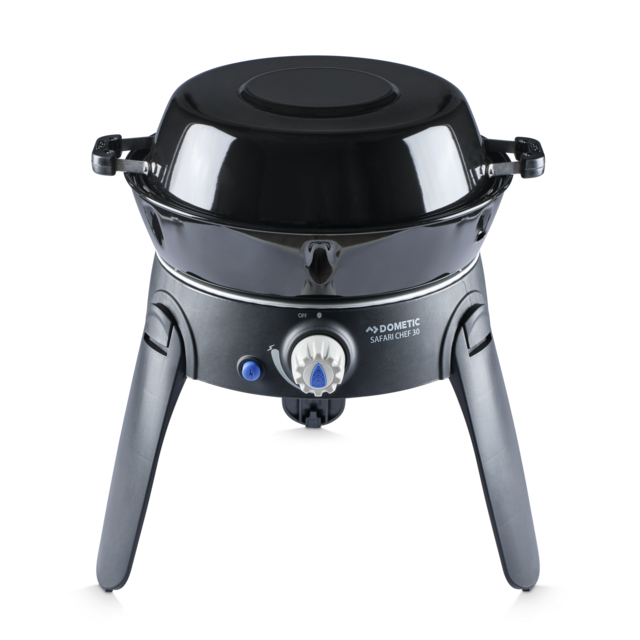 Dometic Cadac Safari Chef 30
Outdoor barbeque, four cooking surfaces, 30cm
This compact and lightweight barbeque weighs just 4.7kg and comes with four different cooking surfaces. The removable fat pan catches cooking residues, but at the same time acts as a windshield to protect the Safari Chef's burner. The barbeque comes with a convenient carry back for easy transportation. The Safari Chef 30 works with a hose and pressure regulator. This is an ideal barbeque for use at the campsite, on the balcony or in the park.
In Stock
Art nr: 9610004166
Product Highlights
1 of 6
Modular design
Interchangeable cooking surfaces
2 of 6
GreenGrill coating
Cast aluminum cooking plates coated in non-toxic materials
3 of 6
Tool-free
Easy gas fitting with handwheel
4 of 6
Lightweight
Perfect for travel
5 of 6
Low-pressure
For better fuel efficiency and heat control
6 of 6
Compact
Fold away legs make the unit compact and portable
Lightweight and compact for when you need to carry the product short distances
Push button piezo ignition means no need to carry matches or a lighter
4 interchangeable cooking surfaces: Pot stand, GreenGrill ceramic coated non-stick BBQ Grid, Flat Grill Plate and Pot/Dome, so it's easy to prepare almost any meal
Quick & easy – swap one cooking option for another
Foldable legs for compact storage and portability with included convenient carry bag
Easy to clean and dishwasher safe surfaces
Low pressure means better fuel efficiency and flame control
Tool free gas fitting with included handwheel
2-year warranty for peace of mind
Product Description
Outdoor barbeque, four cooking surfaces, 30cm
Dimensions product depth, [mm]
440
Dimensions product height, [mm]
400
Dimensions product width, [mm]
440
Gas category
ULPG (Universal LPG AUS(NZ))
Dimensions parcel depth, [mm]
330
Dimensions parcel height, [mm]
235
Dimensions parcel width, [mm]
330
Upgrade the experience
Find your accessories
Not the one for you?
Discover similar products.