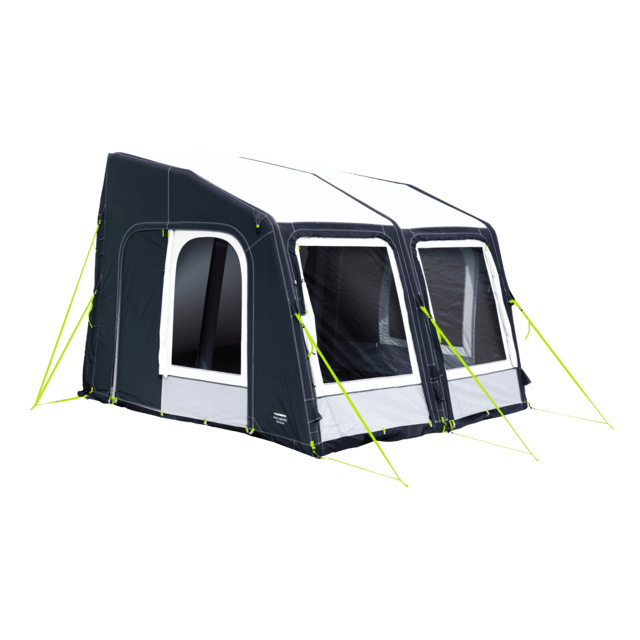 Product images are for illustrative purposes and may differ from the actual product
Dometic Rally AIR Pro 330 D/A
Inflatable driveaway awning
Designed to suit a wide range of motorhomes, Rally AIR drive-away awnings allow you to leave your awning onsite while you explore the local area. The Single Point Inflation AirFrame technology ensures a fast set-up with minimum fuss. Simply connect the awning tunnel to your vehicle by throwing the attached webbing straps over the motorhome, or with the use of a drive-away kit.
Not Available Online
Art nr: 9600027351
Product Highlights
1 of 6
Floor Plan
Generous dimensions maximize the liveable space of your pitch
2 of 6
SINGLE POINT INFLATION
Single Point Inflation awnings inflate from just one external inflation point
3 of 6
WEATHERSHIELD™ PRO MATERIAL
Weathershield™ Pro double coated polyester fabric
4 of 6
QUICKPITCH™ GUYING SYSTEM
Set-up in seconds. Peg the bottom strap taut and adjust the buckle to apply tension
5 of 6
DUAL-PITCH™ ROOF SYSTEM
Increases headroom, ensures effective wind deflection and efficiently sheds water
6 of 6
ADJUSTABLE AWNING TUNNEL
Configure the height of the connecting awning tunnel with adjustable webbing straps
Inflatable driveaway awning for motorhomes
Single Point Inflation AirFrame technology makes set up easy
Weathershield™ Pro double coated polyester fabric protects against wind, rain and UV rays
QuickPitch™ Guying System saves time
Dual-Pitch™ Roof System increases headroom, deflects wind and sheds water
Model on label
Rally Air Driveaway – Pro 330 DA
Scope of delivery
1 awning; 1 2.2L pump; 3 6m connection straps; 1 peg pack; 1 manual; 1 carry bag
Product Description
Inflatable driveaway awning
Dimensions product depth, [mm]
2600
Dimensions product height, [mm]
3000
Dimensions product width, [mm]
3300
Fabric type
Weathershield™ Pro
Dimensions parcel depth, [mm]
990
Dimensions parcel height, [mm]
390
Dimensions parcel width, [mm]
560
Upgrade the experience
Find your accessories
Not the one for you?
Discover similar products.