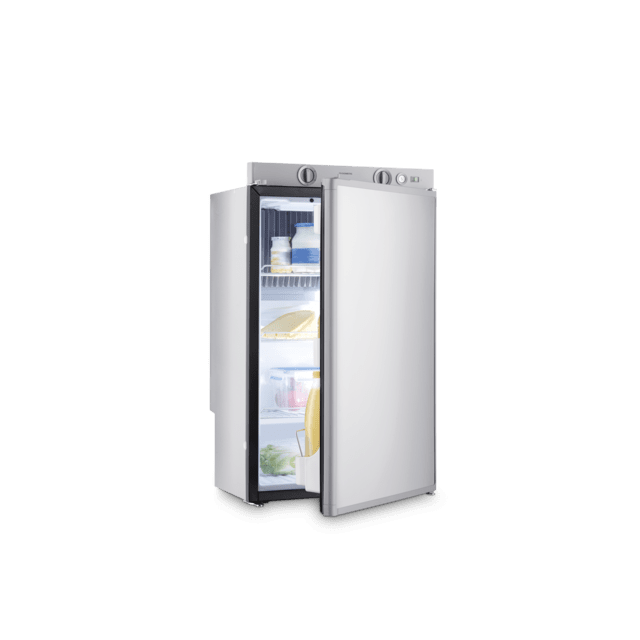 Product images are for illustrative purposes and may differ from the actual product
Dometic RM 5330
Absorption refrigerator, 70 l, left hinged, battery ignition
The 5-series of this much loved Dometic classic has an updated contemporary style and technical upgrades. This 70 l refrigerator with 5 l freezer is perfectly tailored for life on the road.
13 999 kr
Product Highlights
1 of 1
Sub-zero temperature
The 5 l freezer is very useful for long trips away.
Gross capacity: 70 l including freezer compartment (5 l)
Temperature control (for AC and gas) for efficient energy consumption
Clever compact design includes door trays to maximize capacity
Silent electrical operation – no disturbance from your fridge
User friendly control panel and LED light
Three-way power supply gives you extra freedom: AC (230 V), DC (12 V) and gas.
Secure door locking with vent option
Scope of delivery
1 fridge, operating manual, installation manual
Product Description
Absorption refrigerator, 70 l, left hinged, battery ignition
Refrigeration technology
Absorption
Dimensions product depth, [mm]
474
Dimensions product height, [mm]
821
Dimensions product width, [mm]
486
Input voltage (AC), [V]
230-240
Input voltage (DC), [V]
12
Rated input current (AC), [A]
0,54
Rated input current (DC), [A]
10
Rated input power (AC), [W]
125
Rated input power (DC), [W]
120
Input frequency, [Hz]
50/60
Refrigerant amount, [g]
122
Noise (EN60704-1 & 60704-2-14), [dB(A)]
0
Climate class (EN 62552)
SN
Gas consumption [g/24h]
270
Gas pressure (DIN732), [mbar]
30
Thermostat control
Manual Thermostat
Dimensions parcel depth, [mm]
543
Dimensions parcel height, [mm]
845
Dimensions parcel width, [mm]
523
Upgrade the experience
Find your accessories
Not the one for you?
Discover similar products.