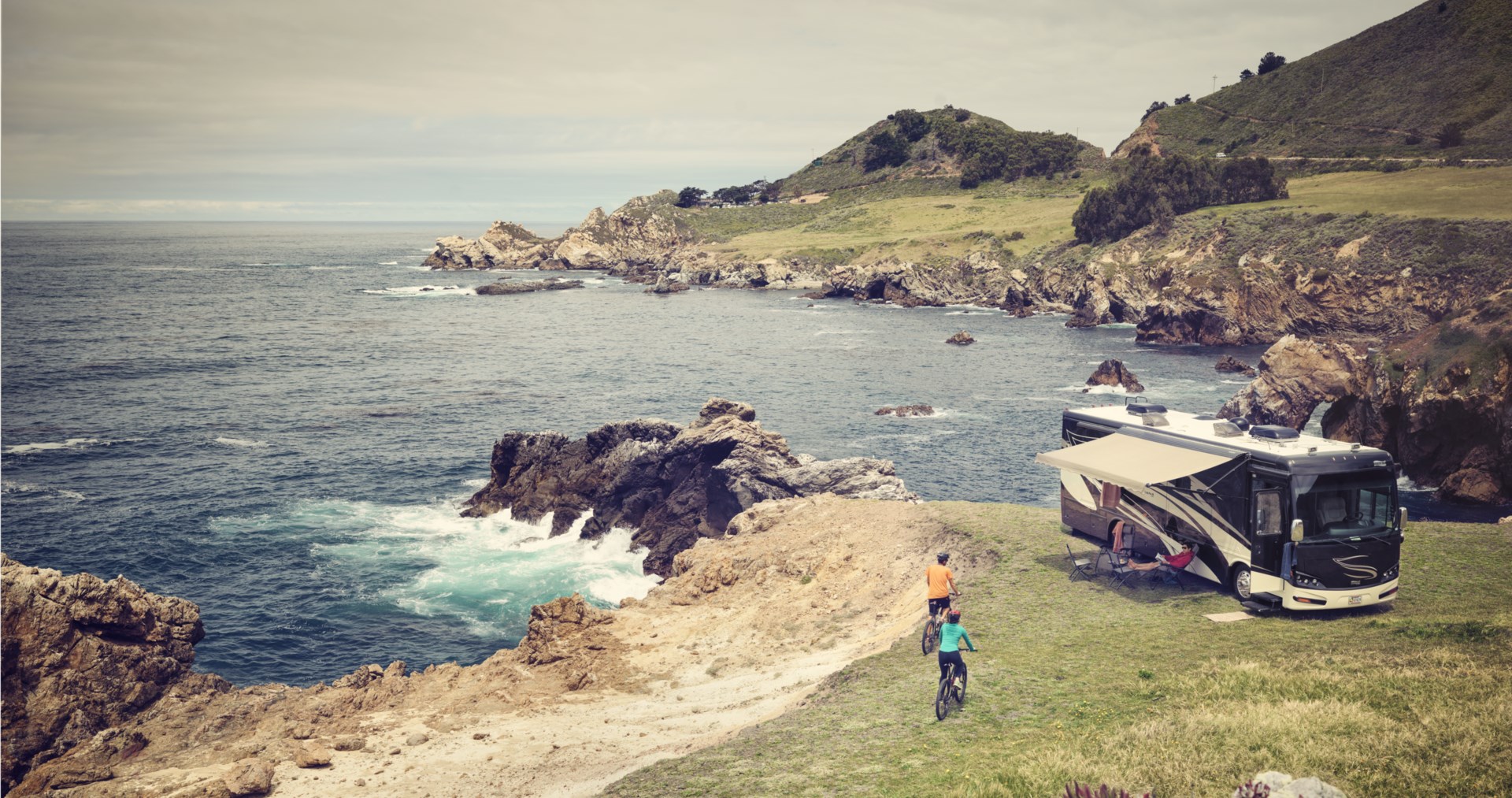 Dometic Awning Guide
What a Dometic awning does for you
When traveling in your RV, you have the freedom to stop at the most beautiful places.  Simply turn off your ignition, get the tables and chairs out and enjoy the marvelous views.  A Dometic awning gives you added pleasure by transforming the area in front of your vehicle into your own mobile patio, where you will spend many relaxing hours. You can also quickly create an extra living or sleeping space with a patio room accessory, which comes complete with mesh screens to protect from bugs and roll down panels for privacy.
Automatic or manual awning?
Ultimately, this comes down to individual preferences and the amount of space available on your vehicle for mounting.
Automatic Awning:
It is quick and easy! At the click of a button, the awning will open or close within 35 seconds.
The automatic awning needs power but does have an easy to use manual override function for power loss inconveniences.

Manual Awning:
No reliance on power, you have the freedom to travel to the most remote destinations.
Average time to deploy an awning with one person operation is around 10 minutes.
Supported or self-supported awning?
Consider the following when deciding to purchase a supported or self-supported awning:
Supported:
Available in automatic or manual
Can easily be deployed and stowed by one person
Self-Supported:
Only available in automatic
Continuous flush mounting means there are no gaps for rainwater to run through
Can easily be deployed and stowed by one person
Will you need to set up working alone?
Both automatic and manual awnings can be easily set up with one person. Take into consideration how much time you want to spend setting up the awning. An automatic awning can be done in under a minute.  Although it is not hard, it can take up to 10 minutes to set up a manual awning.
How long will you leave your awning open?
The length of time an awning will be left open often impacts how people feel about the set-up time. So consider how long you will tend to leave the awning open: does 10 minutes for set up of a manual awning appear to be more effort than it is worth?  Perhaps an automatic awning that open in seconds is more suited to your usage needs. 
Do you want a specific accessory? Ensure your awning is compatible
The vast majority of awning accessories, such as lights and rooms, work equally well across all types of awnings. However, as the list below highlights, certain products require a specific type of awning. So if you have your heart set on a specific accessory, ensure you purchase the appropriate awning.
How much time do you have to set up?
If you are staying somewhere for a short period of time or want to react quickly to a sudden change in weather, you may appreciate the quick action of an automatic awning.  Don't forget to factor in the amount of time needed for stowing any accessories, such as the Veranda Room and Veranda Shade.
Automatic: 90 seconds to deploy / stow away
Manual: 10-12 minutes to deploy / stow away
Climate conditions: temperature, wind and rain
We advise all types of awnings be stowed away in wind and rain. Remember: "awnings are for shade, not shelter".
Temperature:
All awnings are tested to reliable function within a range of -4 degrees F to 101 degrees F. 
Wind/Rain:
If storms or wind is on the horizon, you will want to stow away your awning as quickly as possible and take shelter inside your vehicle.