Camping Chairs
Sit back in a camping chair and kick your feet up just in time for sunset—because epic days on the water, rock, or open road deserve epic, ready-when-you-are comfort. Deploy our rugged, sturdy camping chairs next to the fire ring, near the tideline, or beside the cooler. (And when the sun drops and the stars peek out, our outdoor recliners are the ultimate night sky front-row seat.) Experience Dometic's wide range of outdoor camping chairs and foldable benches to suit all camping adventures.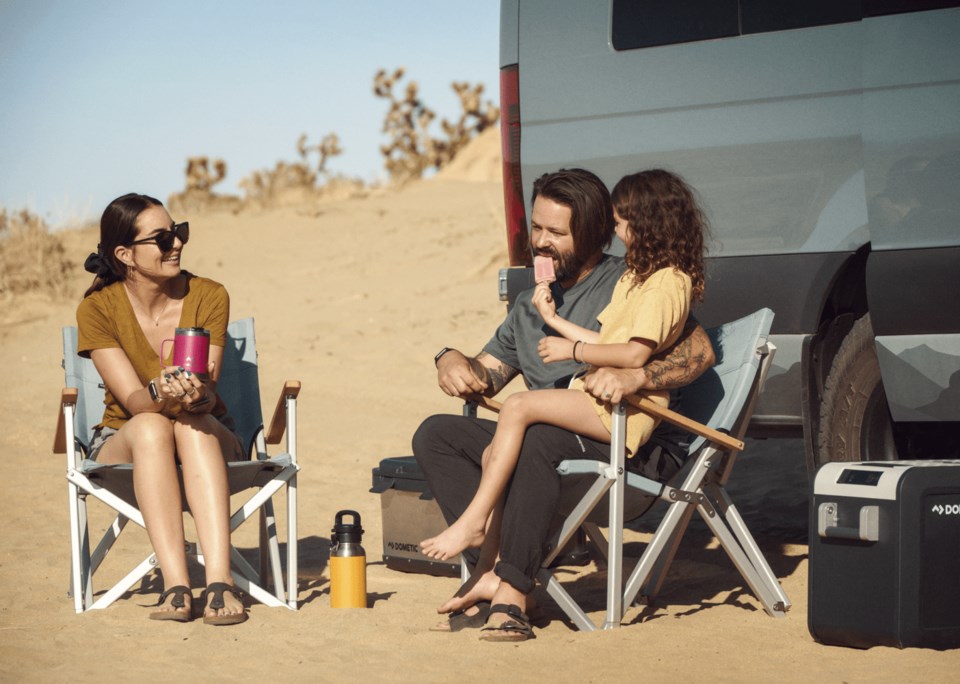 Showing 0 out of 0 products
What Types of Folding Camping Chairs Are There?
Camp chairs are a special breed. Their nature means that they're designed to be lightweight, yet versatile and comfortable so that you can truly relax and kick back after a long day of hiking, climbing, biking, skiing — you name it. Some folding camp chairs are made with backpacking in mind and may sacrifice some comfort for a lighter weight (and easier carrying) while "car camping" chairs tend to be heavier but more comfortable. If you do more car camping, you may want to choose heavier chairs that offer more support and comfort over lighter weight backpacking options.
Camping chairs include the following: 
Four-legged classic camp chairs. This type of camp chair is what most people think of when they think of camping chairs; these foldable camping chairs have flat seats and straight backs, and are designed to be sturdy, stable, and high enough to sit in and get up out of easily. Some include a canopy to provide shelter from the sun. 
Low-profile camp chairs. These low chairs are like classic chairs, but built with shorter legs, which makes them lighter but also more difficult to sit in and get out of. 
Three-legged chairs. Camp stools and other three-legged stools weigh less than four-legged chairs but are not as stable as the latter. 
Rockers. A rocking chair gives the option of motion, but works best on level, firm ground. 
Scoop chairs. A scoop chair lacks a separate back and sides and instead forms a "scoop" around your body; they vary in sturdiness and comfort.
Suspended chair. A suspended chair can include a frame that lets the chair seat hang from it, or a harness that you hang from a sturdy tree branch. 
Two-legged chair. This type of chair requires you to keep your feet on the ground to balance it; it's lightweight and makes a good backpacking chair or hiking chair but it can be unstable and not as comfortable as more traditional options. 
How Do You Choose the Best Camping Chair For You? 
To select the best camp chair, you'll want to consider factors like: 
Consider how you'll use the chair. If you hike or backpack a lot, you'll probably want to choose lighter, smaller chairs than if you do a lot of car camping or camp with an RV. 
Overall size. Larger, taller chairs tend to be more comfortable, and easier to get in and out of, than smaller options. 
Materials/price. Consider the components of the chair and how well it is made; more expensive components will cost more. 
Design. This is often a matter of personal preference; some people like traditional camp chairs while others like scooped chairs. Consider too if you want extras like cup holders, footrests, and even lumbar pads.
Weight capacity. Different chairs support different weights, so if you or your campers are larger-sized, make sure your chairs can accommodate you. 
Why Choose Dometic For Camping Chairs? 
It starts with being outdoors, but you want more than that. You want to spend as much time as you can outdoors, embracing every new trail, every new road, every new bend in the river, every new experience.  Dometic understands that, and we've been making mobile living easy for decades. With our range of durable, comfortable camping chairs for sale, you're sure to find ones that will help you make the most of every adventure.