RV Refrigerators
Are you in the market for a new refrigerator? A fitted model or a freestanding one? Choose from the most comprehensive range currently available. If you'd like the option to use gas for cooling, take a look at our noiseless absorption appliances. They are ultra-convenient, even when powered with electricity. Our compressor refrigerators provide high-performance cooling regardless of ambient temperatures. They run on battery power and are tailor-made for operation using a solar power system.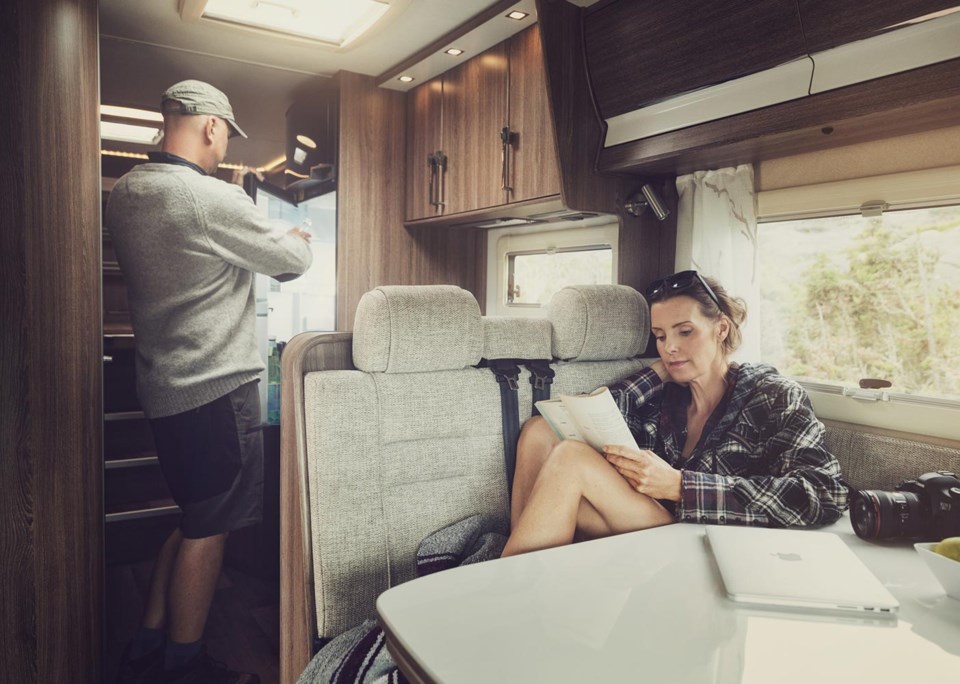 Showing 16 out of 40 products
RV refrigerators tips
If you are looking for a new RV refrigerator look no further. We started out making RV refrigerators, so it's not surprising that more outdoor people use our cooling products than any other brand, and over the years we have sold millions of refrigerators. RV refrigerators are the most important appliance in an RV or motorhome. Below you'll find some tips to consider before selecting the best RV refrigerator for you:
What to think of when buying an RV refrigerator?
An RV refrigerator is quite different from the residential refrigerator you have in your home. An RV refrigerator has special features that make sure the refrigerator is safely and securely closed, even while driving in rough terrain with your RV. There are also safety features that, for instance, will automatically switch over to using LP Gas for power when there is no longer any AC electricity (generator power or shore power). Food and beverages will therefore stay cold even if you don't remember to flip the switch, all thanks to this modern RV refrigerator feature. In short, we highly recommend you buy an RV refrigerator, which is specifically designed for use on RV travels and camping, rather than rely on a refrigerator designed for residential use.
The size of your RV refrigerator
There are hundreds of different RV refrigerator sizes, so there is sure to be a refrigerator with a storage capacity that fits your needs. And here's a tip! If you are running out of space in your refrigerator or even your freezer, you don't have to buy a new one. Consider adding a portable refrigerator and/or freezer. This will give valuable additional fridge/freezer space to have in your RV, by the BBQ at home, or to take with you in the back of your car.
You can't just buy any RV refrigerator
We strongly recommend that you purchase a fridge that is specifically designed for mobile usage. Fridges used in RVs need to absorb shocks and vibrations, they also need a latch to hold the door shut. You need a durable fridge that is fit for purpose; you need a mobile fridge. View the purchase of an RV refrigerator as an investment: it's a refrigerator that is fit for purpose and will last a long time.
Silent RV refrigerators
The hum of a fridge can be an unwanted distraction at the best of times and, if your bedroom is nearby, a real disturbance. So, if you're concerned about the noise of your fridge, prioritize absorption technology. Or, if for other reasons you favor compressor technology, look out for a fridge with a variable pull down speed. This feature allows you to control the fridge's cooling power and, as a result, the noise it generates.
Below are a few tips to operate your refrigerator in the most efficient and economical way possible:
Turn your refrigerator on the day before
Turning the RV refrigerator on the night before your next trip will make sure that your refrigerator is cooled down to an optimal temperature – doing it overnight will also take less energy thanks to the colder outside temperatures. You can also put everything that is already frozen in your freezer so your refrigerator doesn't have to work twice as hard to freeze warm food.
Do not overload your refrigerator
To keep everything in your RV refrigerator cold, air must be able to pass through the shelves and around the food to cool it.
Close the RV refrigerator properly
Make sure you always close the doors to your refrigerator properly. Routinely check and make sure the seals on the refrigerator are in good condition, so you can be sure that cold air is not escaping from your refrigerator.