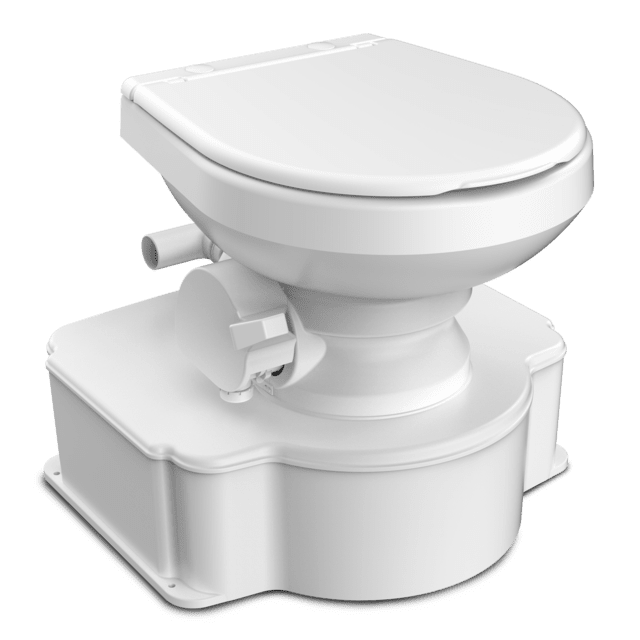 Dometic M65-700
All-in-one marine toilet (white, plastic seat)
The Dometic M65-700 marine toilet is a complete toilet and holding tank system in one package. This Type III MSD has a 6.5 gal. (24.6 l) tank and makes a great replacement for permanently installed portable toilets.
Not Available Online
Art nr: 9610003317 (312070001)
Ceramic toilet bowl and high-strength ABS tank provide many years of use
Odor-free freshwater flush
Low-flush water consumption: less than one pint (0.10 gal/0.39l) per flush
Strong molded plastic seat and cover
Afmetingen productdiepte, [mm]
495.90
Afmetingen producthoogte, [mm]
430.60
Afmetingen productbreedte, [mm]
479.40
Afmetingen pakketdiepte, [mm]
584.2
Afmetingen pakkethoogte, [mm]
609.6
Afmetingen pakketbreedte, [mm]
584.2
Dometic M65-700, M65-5000 - Installation and Operating Manual INT(10)
Installation and Operating Manual
Download
WaarschuwingDoor dit product kun je worden blootgesteld aan chemicaliën zoals arseen, waarvan in de staat Californië bekend is dat dit kankerverwekkend is. Ga voor meer informatie naar www.P65Warnings.ca.gov.
Upgrade je ervaring!
Vind jouw accessoires
Niet het juiste voor jou?
Ontdek vergelijkbare producten.