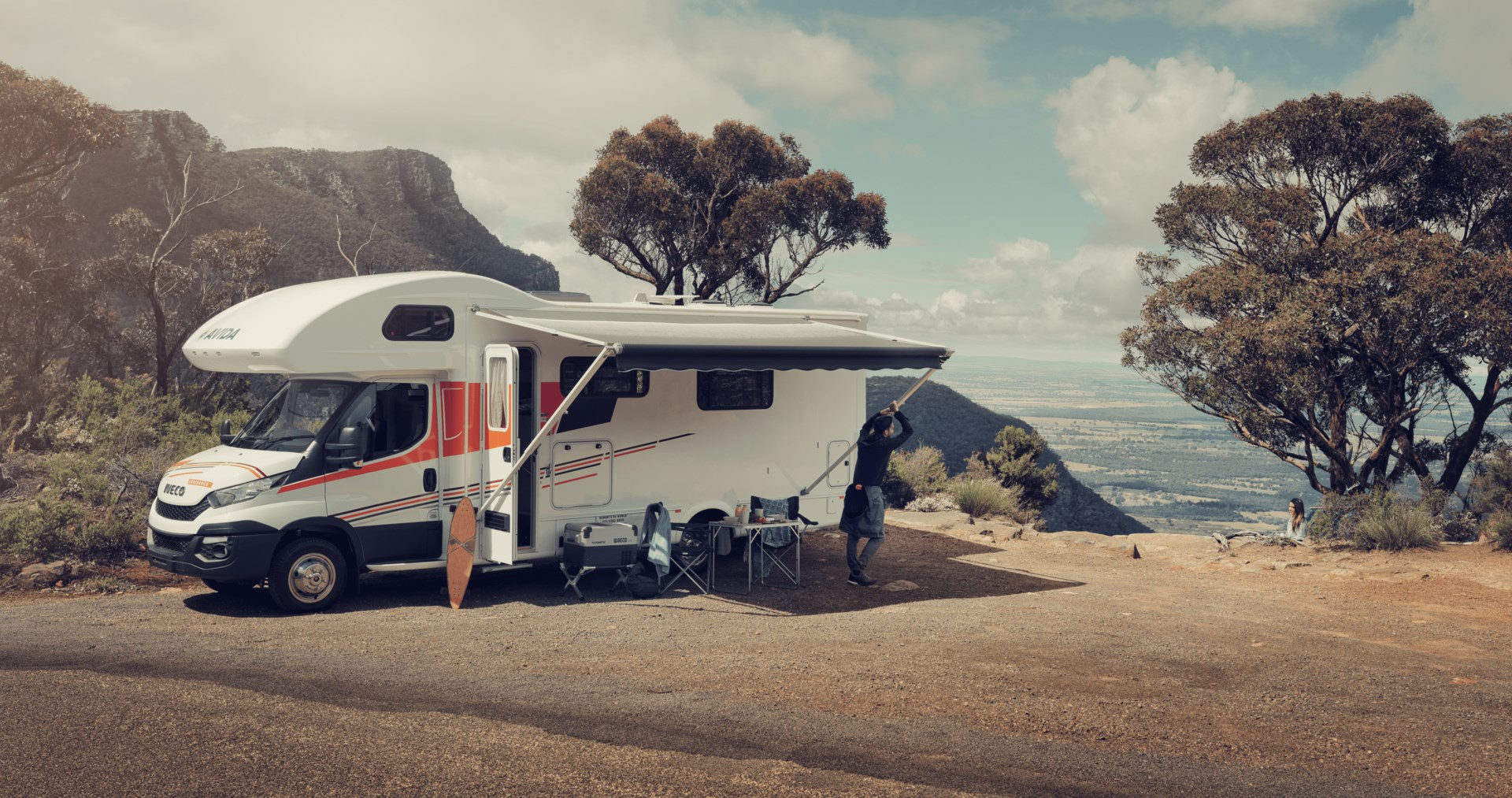 Upgrade your shade
With an RV awning
Chill out under an effective, easy to use awning
ill the engine. Extend the RV awning. Relax. We all love the feeling of hitting the road. But it feels even better when you reach your destination and chill in the fresh air. Effortlessly create your own serene outdoor space with Dometic PerfectWall PW 1100. It's easy to set up and tough enough for all types of weather. Simply put, it's a great upgrade of your next holiday. We call it Mobile living made easy.
Dometic PerfectWall PW 1100
Slide out support legs
Safe and easy to use. Smooth set-up without having to go underneath the awning.
Easy lock flipper system
Simply and securely locks the support legs in place.
Tension rafter
Increases tension and strength in large awnings. Tucks into front rail when not in use.
PerfectWall Series
Create your special place with a Dometic PerfectWall. Strong, light, easily installed, and compatible with most current RV models. Dometic PerfectWall wall-mounted canopies have the build quality and materials to look right at home on even the most exclusive vehicles.
From roof to room
Optional Dometic Camp Room walls create an extra, enclosed living space.
Clean, elegant lines
Sleek and stylish with a smooth design to enhance your vehicle.
LED profile lighting
New modular LED light system (optional). Easy installation for perfect illumination angle.
Roof mounted awnings
Dometic PerfectRoof awnings mount discretely to your roof with minimal space needs. Rugged, attractive, and reliable – PerfectRoof awnings provide every shade of relaxation.
Buyer's guide
Powered or manual? Supported or self-supporting? Wall or roof mounted? Find the perfect awning to shade your next adventure. 
Meet the team
"Safe, easy to operate and ergonomic"
With other awnings, you need to get in underneath to set them up – they're awkward and often tricky. We designed the PW 1100 to be easy. We re-thought the legs, so you can pull from from the sides without having to bend. And we built the tension rafter right into the front rail, so it's not something extra you need to store away. No other awning is this accessible.
– Samuele Meda, Head of Design and UX
"Extra living space and easy to set up."
ander, Maria and their son Lennox are journeying 30,000 kms from Austria to New Zealand in a truck they've named Akela, which is fitted with a Dometic roof-mounted awning.
Read more
Get cosy. Our range of awning accessories let you customize your extra space just the way you want it, and get more protection from the elements if you need it.
Upgrade