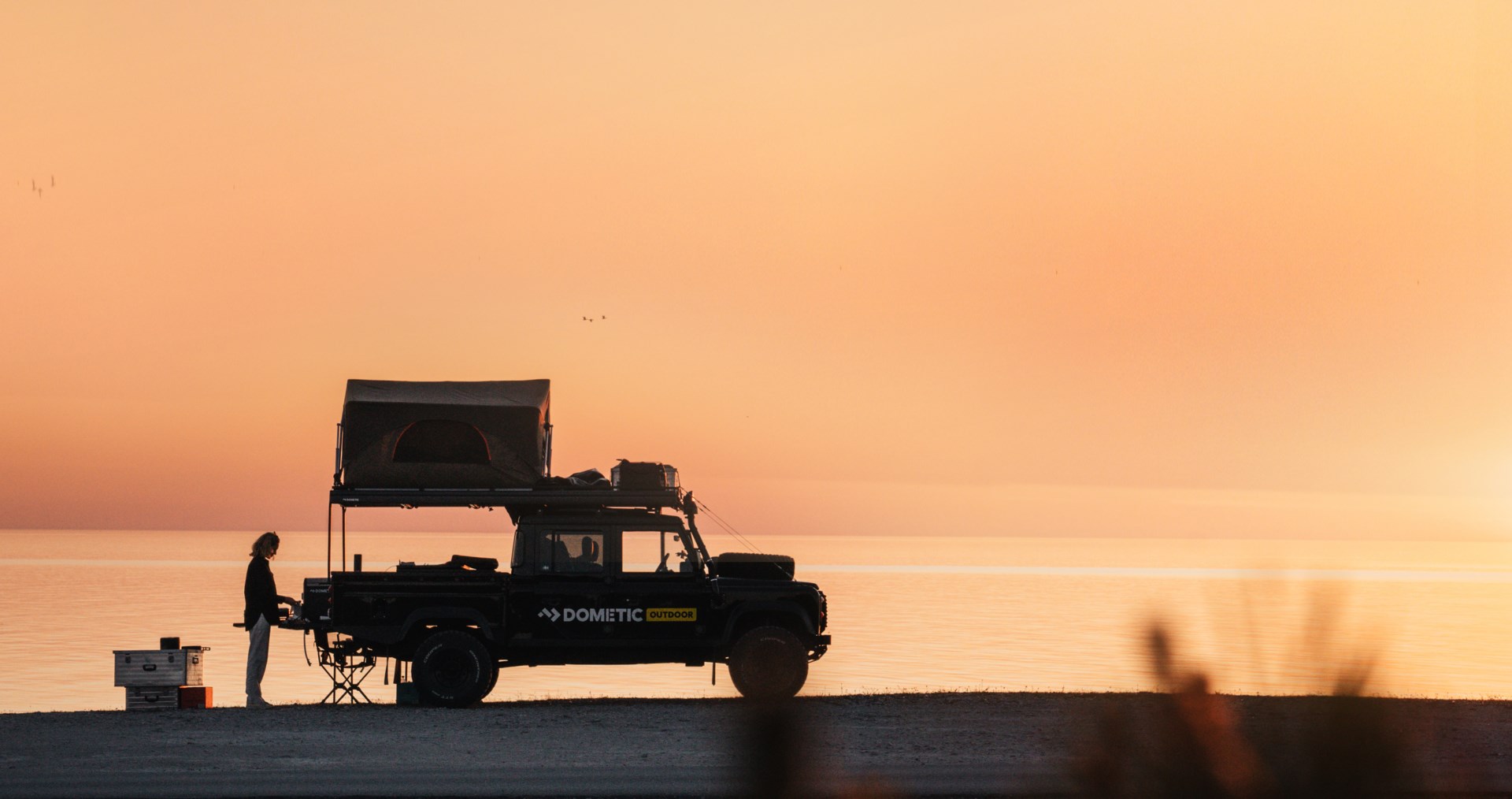 Staycation by Dometic
Discover Sweden
Explore Sweden like never before with Dometic. Experience one of our fully kitted out vehicles or borrow one of our ready-to-go equipment packages, we've got everything you need for an off-the-grid Staycation. Why not try out an overnight stay in Roslagen or Småland, a surfing trip on the west coast, or some hiking up north? The possibilities are endless and it's up to you where you want to go!
Experience our fully equiped Defender or Jimny
Our Land Rover Defender and Suzuki Jimny are both fully kitted-out with a roof tent, kitchen and all the camping gear needed for an off-the-grid trip. We lend the car to selected individuals and companies who are looking for a Staycation experience like no other, and who want to share this on their Instagram and through @staycationinsweden
Try out our outdoor gear packages
We also offer a selection of outdoor gear from premium inflatable tents and camping furniture, cooking equipment, cool boxes and more. These packages are ideal for those who already have a vehicle and are ready for an adventure.
Package 1: Camping tent and furniture
Comfort is key when out camping. Our camping and furniture package includes a selection of inflatable and rooftop tents, camping chairs and tables. Depending on your trip, we have different solutions available so you can choose the right gear to support your staycation.
Package 2: Cooking and cooling
Avoid those soggy sandwiches and try out a Dometic cooler on your next trip. We have different sizes available so you can find the right cooler that suits your trip and allows you to stay out as long as you'd like. Our larger CFX3 electric coolers also contain freezer compartments, so you can keep frozen foods like ice cream ready for those warmer days. All electric cool boxes can be charged with a 12-volt car socket or with a portable Dometic PLB40 battery (also available).
Package 3: Accessories
Our accessories package includes all the essential camping equipment that can be tailored to suit your adventure and the number of people joining. From drinkware tumblers, thermoses and cups, to cutlery, crockery, and other kitchen utensils, we've got you covered. Other equipment such as head lamps, axes and saws are also available.