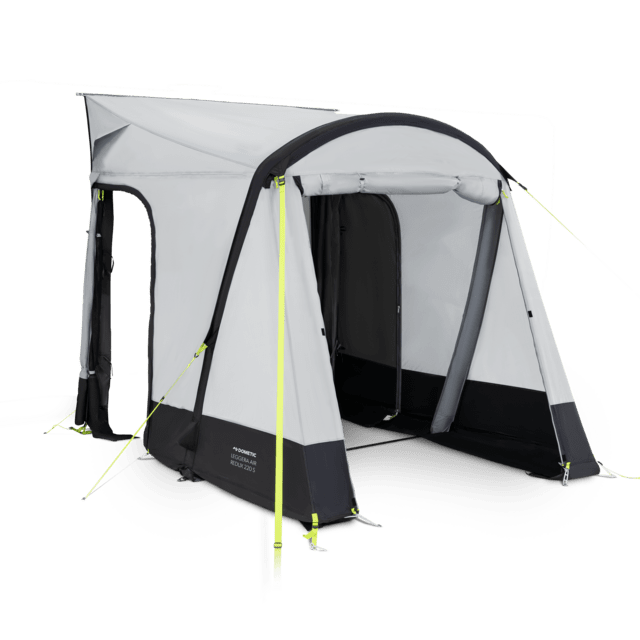 Dometic Leggera AIR REDUX 260 S
Inflatable static awning, 2.6 m width
For tourers seeking a high-quality, inflatable touring awning, the Dometic Leggera AIR Redux has you covered. Featuring durable polyester, woven with recycled plastic bottle yarn, this easy-to-pitch motorhome awning provides exceptional functionality without compromise.
Single Point Inflation Air Frame technology ensures a strong structure and easy set up
Environmentally responsible polyester ensures reliable protection from the elements
Apex ventilation with weather protected corner vents
Model on label
Leggera AIR Redux 260 S
Scope of delivery
1 awning; 1 draught skirt; 1 2.2L pump; 2 storm straps; 1 peg pack; 1 manual; 1 carry bag
Product Description
Inflatable static awning, 2.6 m width
Dimensions product depth, [mm]
2400
Dimensions product height, [mm]
2650
Dimensions product width, [mm]
2600
Connection height min, [cm]
235
Connection height max, [cm]
265
Mount Position
Vehicle Side
Vehicle Type
CaravanMotorhome
Fabric type
Weathershield™ REDUX
Dimensions parcel depth, [mm]
820
Dimensions parcel height, [mm]
330
Dimensions parcel width, [mm]
330
Dometic Ace AIR Pro, Club AIR ALL-SEASON/PRO, Grande AIR ALL-SEASON/PRO, Rally AIR PRO (D/A), Rally AIR All-SEASON, Leggera AIR - Installation and Operating Manual EMEA15
Installation and Operating Manual
Download
Upgrade the experience
Find your accessories
Not the one for you?
Discover similar products.