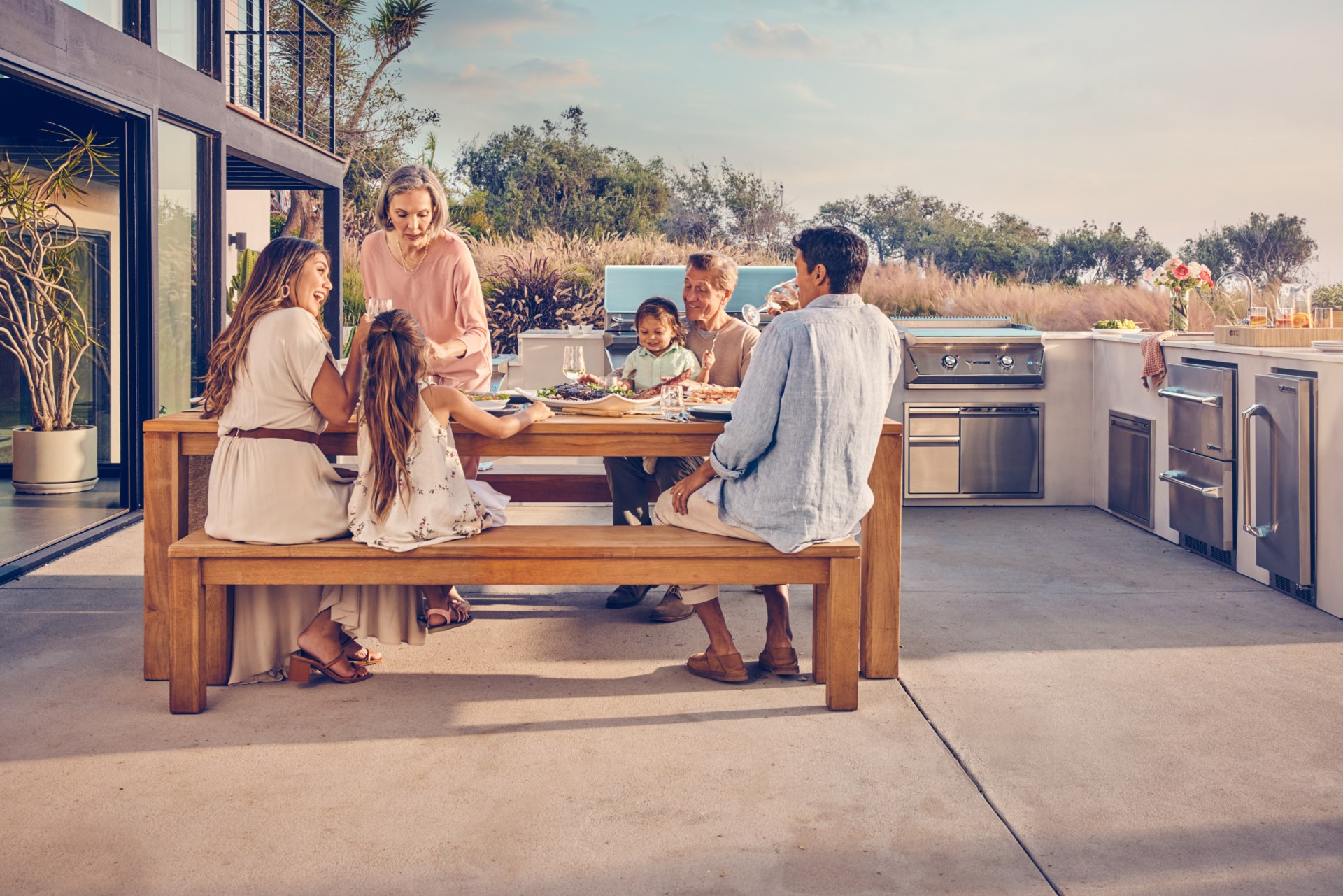 celebrate and entertain at home
Elevate and enrich life's special moments with Dometic Home premium portfolio
Designed to entertain inside and out
There has never been a more important time to bridge the gap from indoors to out, and create solutions that will enhance the way people live, celebrate and entertain at home. Dometic allows homeowners to elevate and enrich life's special moments with a premium portfolio of purposely designed products for cooling, chilling and grilling.
A seamless transition from indoors to out
With products such as wine coolers, wine drawers, mobile beverage centers and a range of premium outdoor kitchen appliances, the brand leads with craftmanship, quality materials, meticulous design, and expert engineering. Each product is developed to make life simpler, more luxurious and enjoyable.
Designed to enhance everyday moments
Dometic leverages the expertise, technology and innovative thinking of its company partners: Twin Eagles and Delta Heat. Each product is carefully crafted and engineered to perform as a long lasting, versatile and functional solution that caters to the needs of homeowners who enjoy entertaining.
Dometic Mobar Series
The Dometic MoBar is the ultimate mobile bar for your outdoor living space. Professionally graded with a timeless state-of-the-art patented design, it doesn't compromise style for functionality or convenience, allowing hosts and their guests to socialize outdoors without ever missing a moment
Explore more
Twin Eagles is now Dometic
Dometic Twin Eagles offers a full suite of premium grills and accessories that are designed to entertain
Learn more
Engineered for precision, designed for style
Time spent with friends and family is precious – so make it count. Dive into our line of outdoor cooking equipment. Each product is designed to enhance your home entertaining experience, from prep to plate. Leveraging decades of engineering excellence, the Dometic Twin Eagles suite of products offers both casual grillers and professionals perfect results every time.
High performance grills
Grilling performance. Culinary perfection. It all comes together in our sleek outdoor kitchen equipment. Each grill features our innovatively engineered Five Part Grilling System, designed for the ultimate grilling synergy. Our commitment to quality is evident in every interaction with our superbly engineered equipment - each expertly crafted grill is responsive, intuitive and easy to use. 
Delta Heat is now Dometic
Legendary innovation and perfected performance merge for an unparalleled grilling experience
Learn more
Master the art of grilling
We understand that the right features, exceptional performance and longevity are important. Rest assured that these attributes are at the forefront of all Dometic Delta Heat products. We also understand the importance of style. Our engineers and master craftsmen have built unmistakable appeal into each and every Dometic Delta Heat product. After all, homes are a reflection of personal style. Grills and outdoor kitchens are no exception.
Proudly made in the USA, Dometic Delta Heat utilizes a direct heat and ceramic radiant grilling system for faster grilling and optimal flavor. Mirror polished accents and welded construction ensure superbly designed grills. Dometic Delta Heat solutions are the perfect addition to any outdoor entertaining space.
Dometic Drawbar collection
Elevate the kitchen or any entertaining space with Dometic DrawBar. DrawBar is an industry-first and revolutionary home appliance that offers the functionality of a full-size wine cooler in an elegant compact design that fits 5 bottles. Anywhere there is a drawer, there can now be a DrawBar.
Seamless fit in any kitchen
The Dometic DrawBar offers the functionality of a full-size wine cellar in an elegant compact design that fits any 24 inch/60 cm wide kitchen cabinet. Inherently ergonomic, DrawBar can be 'invisibly' installed behind a custom panel or 'visibly' faced with a glass front. Soft illumination showcases bottles and adds a feeling of luxury whenever the drawer is opened.
Optimal environment for enjoyment
Featuring a user-friendly control panel, the appliance offers on, off and five preset temperatures (between 41°F and 63°F/ 5°C and 17°C) for cooling and storing white, red and sparkling wines. This smart cooling drawer is also equipped with a humidity tray that offers optimal storage conditions. 
Dometic wine coolers
Store your treasured wine collection in optimal conditions and allow it to take center stage in your home. Dometic wine coolers provide perfect conditions for wine storage and fit seamlessly in any home.
Read more
A wine cooler that fits your lifestyle
For wine to unfold its full bouquet of flavor, both the storage conditions and the serving temperature must be right. Dometic's new range of wine coolers provide the optimal environment for unlocking the wine's full flavors and character. The well-engineered cooling technology ensures that the ideal temperature is quickly achieved and reliably maintained. An effective air circulation system and automatic humidity control create the perfect climate for the wine to unfold its full bouquet of flavor. The Scandinavian inspired design of Dometic wine coolers can easily fit any space whether built-in or freestanding.