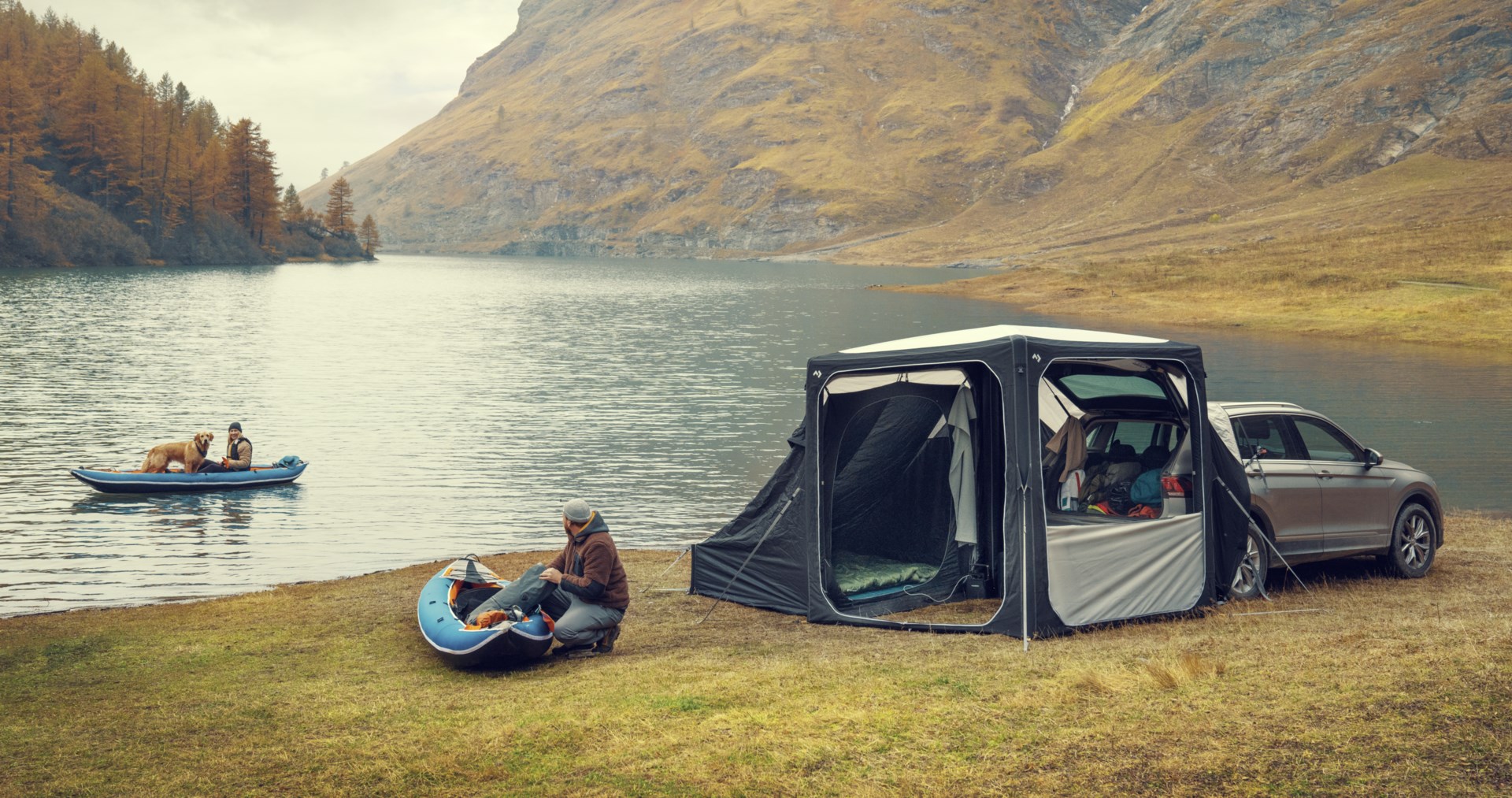 Dometic HUB
Your base camp to adventure
For any adventure
With the HUB, versatility is built in. An activity shelter, a camping tent, a SUV awning, a campervan drive-away – the HUB is all of these and more. Throw it in the trunk or put it on your back and follow the call of the wild, adventure awaits you.
Embrace spontaneity
Embrace spontaneity, set up camp and get close and personal with nature. The HUB is suitable for every environment; its unique features, durable fabrics and smart design allow you to travel between the best outdoor spots with ease – ensuring you're first on the trail when the sun comes up.
The Dometic HUB
Multiple application shelter constructed with premium materials
Single point inflation - the hub inflates by hand easily from just one external inflation point.
Multiple application - use freestanding or zip-on optional connection tunnels to connect suv's and campervans.
QuickPitch™ guying system - set-up in seconds. Peg the bottom strap taut and adjust the buckle to apply tension.
Single point inflation frame with four-sided quadratic zipper interface
PVC groundsheet - the durable pvc shelter base has been incorporated to resist damage when pitching on hard and stony ground.
Weathershield™ Pro fabric - durable, waterproof and lightweight double coated polyester fabric.
Stay longer - zip-on the optional two-person sleeping annexe, compete with breathable inner tent.
Stay out longer
Fast and effective shelter means you can continue doing what you love even when the sun sets, wind blows or rain comes down. The HUB sets you free to celebrate being in the moment with friends and family with total confidence in your comfort.
Customized by you
Engineered to match the way you experience the outdoors. Mod out your HUB with a range of bespoke add-ons, designed to upgrade performance, add comfort and adapt to your lifestyle. Discover what's possible with the Dometic HUB.
Customized by you
Shop the Hub and Accessories
Experience endless versatility
Experience more with our most versatile outdoor activity shelter. The HUB's unique design means it can be used as a gazebo or tent. Add up to three annexes so you can sleep 6 people under one roof. Wherever you're going and whoever you're with – the Dometic HUB has you covered. Whether you're away for the afternoon or a weekend, make your home anywhere.
Social focal point
Innately social by design, the Dometic HUB is the new centre of your outdoor life. Whether relaxing at the beach, off-roading with friends or requiring quick and convenient shelter in the garden or park – the HUB has you covered. So come together to share the experience.
Gear up for the outdoors
Immerse yourself in nature and grab the chance to spend quality time with friends and family. Dometic outdoor accessories ensure you're kept comfortable, your devices are always fully charged and your supplies stay cold. Ready when you are – just grab and go.
Gear up for the outdoors
Bring the comfort